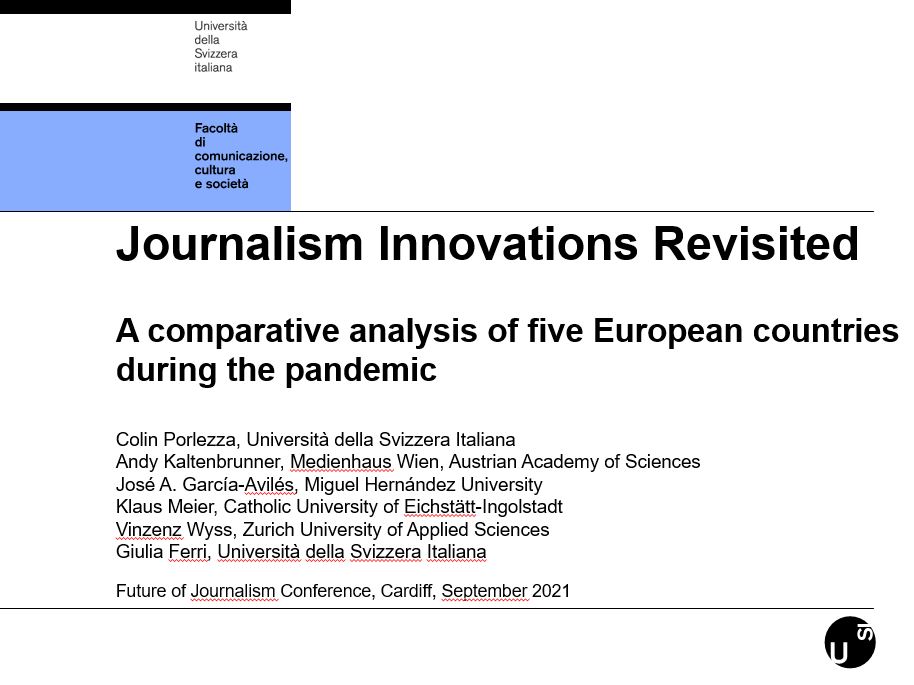 Journalistic Innovations in the pandemic
November 15, 2021 by Korbinian Klinghardt
During the Covid-19 pandemic, newsrooms were forced to reorganize their routines, trying to guarantee a timely news production, but without being able to rely on the traditional workflow they were used to. In this crisis scenario, will journalistic innovations have suffered a setback? Or was the pandemic a big opportunity to come up and implement innovations in newsrooms?
The study sought to investigate the development of journalistic innovation during this crisis situation in relation to different socio-political contexts. The authors Colin Porlezza, Andy Kaltenbrunner, José A. García-Avilés, Klaus Meier, Vinzenz Wyss and Giulia Ferri addressed this question and presented their findings at the Future of Journalism Conference 2021 at Cardiff University.
The analysis was based on data obtained from 20 interviews with experts from each of the five countries (Austria, Germany, Spain, Switzerland, United Kingdom) involved in the project. The most important innovations were then analyzed on the basis of both a national and cross-country perspective.
The results show that during the pandemic there was an acceleration in the introduction and/or development of journalistic innovations, particularly regarding data journalism and remote working. Although in general there is great heterogeneity between the innovations mentioned in different countries, the important role played by data journalism during the pandemic suggests the strengthening of a more analytical/scientific approach, thus promoting and fostering science journalism.