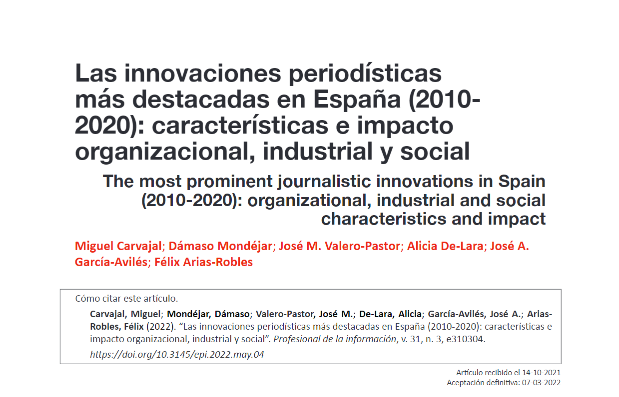 Jo-In DemoS identifies the most important journalistic innovations of the last decade in Spain in an article published in 'El Profesional de la Información'
May 18, 2022 by Dámaso Mondéjar Aráez
The prestigious scientific journal 'El Profesional de la Información' publishes in its latest volume the article "Las innovaciones periodísticas más destacadas en España (2010-2020): características e impacto organizacional, industrial y social", written by a group of researchers from the international project Jo-In DemoS (Journalistic Innovations in Democratic Societies). The research catalogues the innovations that have taken place in the Spanish media market in the last ten years according to their level of impact within the organisations, the media industry and society as a whole. This work can be consulted openly.
Data journalism has been classified as the most relevant journalistic innovation because it implies changes in production, generates quality journalism and encourages its adoption by other agents in the sector. Other innovations have had a substantial influence on the organisation and society, such as the partner model or fact-checking. However, they are still far from being widely adopted in the industry and therefore rank second and third. The results indicate that innovation arises mostly incrementally in how journalism is produced, organised, distributed and sustained in Spain.

The six spanish researchers involved in the international project participated in the study: Miguel Carvajal, Dámaso Mondéjar, José M. Valero-Pastor, Alicia de Lara, José A. García-Avilés and Félix Arias. The research is based on a panel of academic and professional experts aimed at obtaining an initial sample of initiatives (n=253), which are then grouped into general categories (n=60). Their impact on the three areas (organisation, industry and society) is then analysed using the consensus group technique and according to the criteria of industrial appropriation and social innovation proposed by the OECD.