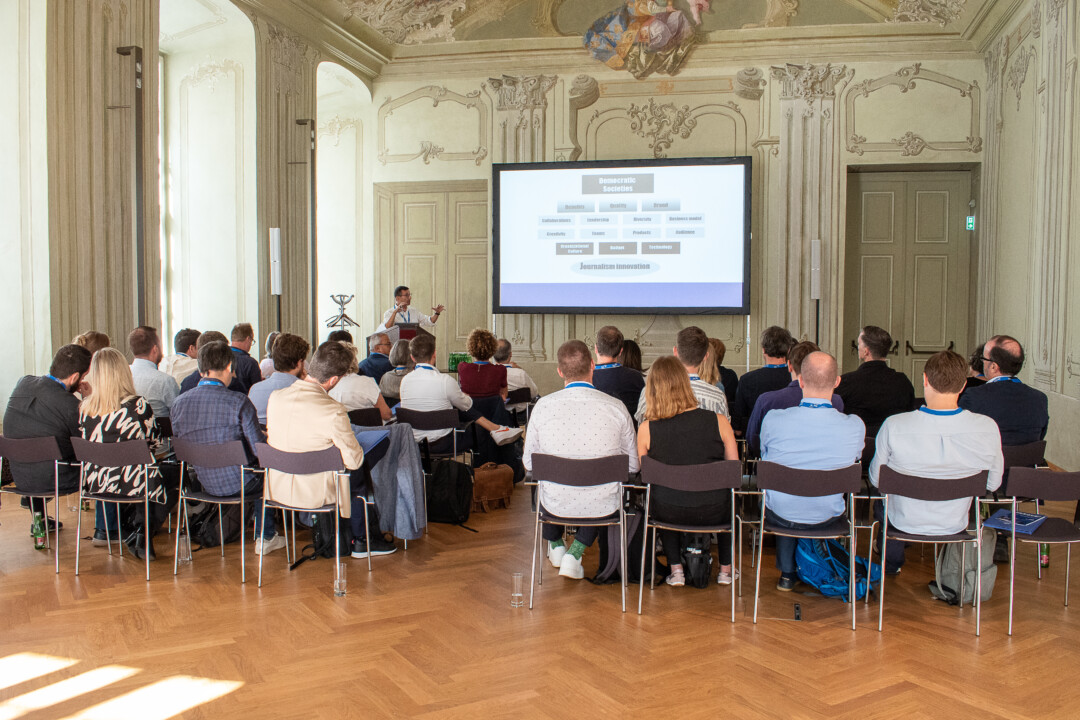 Project end in exchange with practitioners
October 02, 2023 by Michael Graßl
Three years after the start of the international research project "Innovations in Journalism in Democratic Societies: Index, Influence and Preconditions in International Comparison" ("Join-DemoS"), the project has come to a worthy conclusion in Vienna. At the end of September, nearly 50 practitioners and project participants gathered in the Austrian capital for a joint closing event.
On site at the Austrian Academy of Sciences, the invited guests from the five participating project countries Germany, Austria, Switzerland, Spain and Great Britain spoke together with the scientists about the collected results of three years of innovation research. In mixed workshops, challenges of innovation in journalism as well as opportunities for democracy and society were discussed. The experts represented media brands such as SZ, tagesschau, ORF, the Financial Times and Maldita.
The aim of the "Join-Demos" project was to examine the impact of innovations on the quality of journalism and its role in democratic society, and to analyze the framework conditions for the emergence of journalistic innovations in an international comparison. More than 20 researchers from the five countries mentioned above were involved in the project.
Some of the project's results have already been published in various publications, and after the final meeting in Vienna, the main publication will be finalized: In March/April 2024, a comprehensive anthology with nearly 20 researchers involved in the project will present the results to the general public. The book will be published by the renowned publishing house Routledge.
In addition, further results will be published in various specialist publications, for example, the publication of an article in the peer-reviewed journal Media and Communication is also planned for 2024.
Just in time for the project's conclusion, there was also an update for the homepage: There, all 100 case studies examined as part of the project are now clearly listed by country and innovation area for clicking through. Click here for the case studies.